-->

This page is a collection of some of the poems I've written over the past ten years. My poetry is always written straight from the heart, depending upon the mood I'm in when I write each poem. Some are about friendship, while others are based on scriptures from the Bible. Others are about teaching, holidays, special family occasions, such as births, birthdays, and deaths. Also, some are about special events at church, at school, or "special requests" for a friend wanting an original poem for just about any reason. The Lord blessed me with this talent, and my friends have encouraged me to share my poems on this web page. Hope you enjoy reading them! I'd love for you to sign my guestbook, so I'll know which poem touches your heart the most. I'll add to this page often, because I write new poems as the need to express myself arises! Thanks for taking the time to read some of my poetry!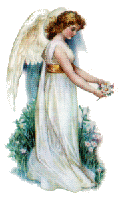 "Commit To Him"
Commit thy way unto the Lord,and to you He will show,
The pathway of righteousness on which you should go.
Trust also in Him, and He will not desert,
At times when you're lonely and feeling hurt.
Rest in the Lord, and wait patiently for Him;
He'll protect all believers, yea,all of them!
He shall bring it to pass;He will not disappoint.
Those in His kingdom He will annoint.
When He returns He'll smile and say,
"I've come for you my faithful ones; it's Judgement Day!"Psalm 37:5-7


"Trust in Him"
The fear of man may cause a snare,
But God's people believe in His unfailing care.
Those who trust in Him will be protected.
Those who ignore Him will be rejected.
Fear separates those who don't acknowledge God;it sets them apart
From those who love the Lord with an unselfish heart!
Erase fear from your mind,
And let it be replaced with love for all mankind,
And God will continue to bless as only He can,
The trusting comrade, the fearless man!Proverbs 29:25


"The Power of Prayer"
Prayer is a mighty, invisible force.
Putting your trust in the Lord involves praying, of course.
When the problems we all encounter come our way,
It's important that we pause and take time to pray.
'Cause prayer is vital communication with the most holy one,
Our eternal Father, ours, and Jesus, His son.
When we turn our burdens over to Him in prayer,
We'll never be ignored; he'll always be there.
He'll listen, not interrupt, not hurry us along.
He'll give us his answer; it won't be long.
If we accept the Father's will and not question His voice,
We'll realize He always makes the right choice.
Although we may not understand the "when" or the "why",
He'll give us comfort and acceptance of any situation as time goes by.
Prayer eases pain the way no medicine can.
It's the "miracle" cure that's part of God's plan.
When we pray for others' problems we're putting God to the test,
And we know the outcome will be what God deems best.
There's no need to constantly worry or wonder,
'Cause when the Lord hears our prayers He answers with a voice like thunder!
Yes, He is that mighty; He gets our attention.
There's no problem to Him that's too small to mention.
Prayer should be part of the daily armor we use.
With prayer as intercession we'll know what to choose.
The importance of prayer can not be stressed too much;
It's our link with God. It's what keeps us in touch.
Prayer is surely the most precious key
That unlocks all mysteries for you and for me.
So, use it daily to help you deal with all kinds of stress.
The Lord is the only one who'll know what's best.
Remember Jesus said,"I'll never leave or forsake you; I'll always be there."
When you think you're alone you're not. Just talk to Him in prayer. Matthew 21:22 and James 5:16